Again, I read many Kindle books so this month's photo is rather lacking. 
The candle was in the March Fairyloot box, the photo on my instagram
March Round Up
I read a lot of ARC's this month. A lot. I read thirteen and wrote reviews for all of them, as well as seven of my own/the library's books, totally twenty books this month. Phew. I have even more ARCs left to read and as my summer exams are creeping up on me, the stress is starting to mount a little. Thankfully, the Easter holiday is almost upon us and I can go back to studying intensely for maths (and philosophy of maths) exams in order to be able to stay on my integrated master course. Obviously, there will also be time put aside for reading!
I also received my first ever subscription box in March – Fairyloot's one year anniversary box! It was absolutely delightful and the book was what I expected (so pleased with myself for figuring it out 🙂 ) and the edition was more gorgeous than I had thought it would be. Keep your eyes out for an unboxing post. 
Now, normally I do a spotlight read of the month, and my actual favourite read of March was Red Sister by Mark Lawrence. The problem with that is that it isn't out yet and I feel like it is a touch unfair to get all my lovely readers thrilled about a book only for them to find out they can't yet buy it. So starting this month I am choosing a favourite published and favourite ARC to spotlight. So without further ado:
Spotlight ARC of the Month: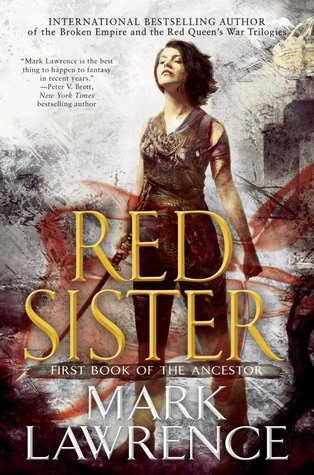 Red Sister, Book of the Ancestor #1,
Mark Lawrence
Review
"That's my secret and my shame. I'm Nona Grey, war is in my veins, and the screams of my enemies are music to me."
Absolutely incredible. Red Sister is the amazing, heartwrenching, slow-paced, bloody story of ten year old (then twelve, then older) Nona Grey, first sold to a child-seller, then to a a gang of ring-fighters, then inducted into the Sweet Mercy convent of assassin-nuns to save her from the hangman's noose. It started with a bang and ended with my heart in pieces and my eyes yearning for more. 
Nona is a wonderful protagonist. She's tough as nails, pisses off half the nuns and is beloved by the others. She makes friends rarely but when she does she'll defend them unto her dying breath. She's also powerful but not overpowered, a very fine line to walk that Lawrence has managed to tread exceedingly well. There's a prophecy about a Chosen One, but it isn't Nona. There's also a plethora of fascinating and highly developed female characters (and a couple of relationships between them hinted at) against the backdrop of an interesting world.
As usual, Lawrence's writing is astounding and highly quotable. Read my full review for lots of gorgeous quotes!
Official Synopsis:
At the Convent of Sweet Mercy young girls are raised to be killers. In a few the old bloods show, gifting talents rarely seen since the tribes beached their ships on Abeth. Sweet Mercy hones its novices' skills to deadly effect: it takes ten years to educate a Red Sister in the ways of blade and fist.




But even the mistresses of sword and shadow don't truly understand what they have purchased when Nona Grey is brought to their halls as a bloodstained child of eight, falsely accused of murder: guilty of worse.
Spotlight Read of the Month: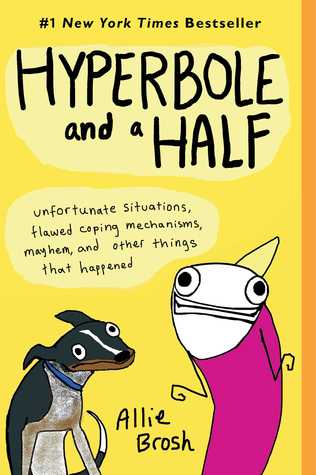 Hyperbole and a Half, 
Allie Brosh
Review
I was considering making Heartless my favourite read of the month because it
is
excellent, but I thought everyone might have already heard of it. Hyperbole and a Half is also a wildly different genre: a collection of charmingly horrible MS Paint drawings interspersed by chunks of text. Despite being of questionable artistic quality, Brosh conveys a lot of emotion. There are eighteen stories and they range between childhood recollections, stories about her dogs, introspective essays, and a difficult but important look at her depression.
It's equal parts hilarious and sad and honest. In terms of sheer humour, the dog ones (featuring simple dog and helper dog) were my favourites; they're instantly relatable for anyone who has a misbehaving dog and have really cute drawings. I also finally saw the origin of the meme "ALL THE THINGS". What a dive into internet history. Cultural exploration, it's here kids.
I don't really feel like I'm doing this book justice, so I'll include a couple of my favourite pictures!
Other Reads:
Girls Can't Hit
T. S. Easton
Rating: 4/5
A lovely, emotional, and heart warming story about boxing, friendship, family relationships, and knowing when to fight. Fleur Waters takes up boxing to prove a point and ends up falling in love with the sport, despite a mother who wants her to do yoga and a boyfriend who thinks she's eating too much. As someone who does martial arts, this was a wonderful, inspiring read.
Bull
David Elliott
Rating: 4/5
Review
(Poetry)
Bull is a humorous, often crass, and sassy retelling of the story of the Minotaur, with a good dose of modern upholstering (language-wise, not setting). Poseidon, Daedalus, Pasiphae, Minos, Ariadne, and Theseus are all narrators, each having their own unique voice, and the book begins with a line that really sets the tone of the book: "whaddup bitches"


The House of Mountfathom
Nigel McDowell
Rating: 2/5
Review
(Children's Fiction)
The House of Mountfathom is a tale of magical realism, of a living house, of a family, and of a war. Luke Mountfathom is a special child, a child of the shape-changing Driochta. Unfortunately, it is entirely confusing and the main character is rather boring, making for a frustrating read.
Rating: 3/5
Review
(Children's Fiction)
Mouse belongs to a sea tribe, living aboard the trading ship The Huntress under the captaincy of her grandmother, Captain Wren. Life  is going as normal until Wren lets aboard an old tribesmember, Stag, who has less than savoury motives towards the ship and the crew.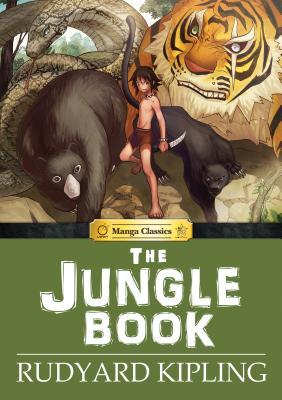 The Jungle Book, Manga Classics
Rudyard Kipling
Rating: 4/5
(Manga)
The Jungle Book follows Rudyard Kipling's original seven stories very closely, even integrating some of the shorter poems into the artwork. The illustrations are charming and this book is a great introduction to Kipling's works beyond the story of Mowgli. 
Quests of the Kings
Robert Evert
Rating: 1/5
Natalie runs afoul of an adventurer, Brago, who is on a royal quest to uncover a golden harp. He threatens her life and she seeks safety with another adventurer, Sir Edris. Quests of the Kings is full of sexism, boring characters and dodgy world building. Natalie herself spends the whole book alternating between crying and brandishing knives at people.
The Castaways
Jessika Fleck
Rating: 3.5/5
Review
The Castaways, inspired by Lord of the Flies is firmly a young adult novel, full of action, violence, romance, and female characters. Olive  Maxi Gagmuehler is badly bullied and, when running from her tormentors, stumbles headfirst onto an island inhabited only my two warring tribes of teenagers from various time periods and places. It's fun but suffers from cliches.
Rating: 4/5
Review
A Queen of Hearts origin story, Heartless draws from the original works and imagination to re-imagine the story of Catherine Pinkerton, favoured lady of the King who only aspires to run a bakery. But we all know how the story ends: Off with their heads! But just how does she get there? It's compelling and whimsical, but lacks just a touch of that magic of Wonderland.
In Ageless Sleep
Arden Ellis
Rating: 3/5
Review
A tiny little sci-fi/lesbian novella. Mal is a spy, grown up and grown old in the Reaches; Aurora, is the daughter of the Sovereign King and in cryostasis  when Mal hijacks her ship. When a system disasters strikes, Rory is the only one who might be able to help Mal save the ship. It's cute but short and sweet and lacking full development of Aurora or their relationship.
Rebel of the Sands
Alwyn Hamilton
Rating: 3/5
Review
Amani Al'Hiza lives in the dead-end desert town of Dustwalk under the "care" of her uncle. Her future? To be wed to her uncle, or to be dead. Bucketloads of potential, but only really picks up 2/3 the way through. The setting and mythology were lush, the characters were spunky, and Amani is wonderful. Jin, the love interest, is a bit of a let down, but the rest of the cast is gold.
Noteworthy
Riley Redgate
Rating: 4/5
Review
A hilarious crossover between She's The Man and Pitch Perfect, Jordan Sun can't get cast in a single musical role because of her deep voice. But when the all-male a cappella group calls an audition it turns out Jordan "Julian" Sun is just what the Sharpshooters are looking for. There's a delightful group dynamic like that in Stiefvater's The Raven Boys, and Jordan is a great lead!
The Shock of the Fall
Nathan Filer
Rating: 2/5
Review
Despite being an award winning novel, The Shock of the Fall failed to really grab me. It's an important novel about loss, grief, and schizophrenia, but the timeline and writing are thoroughly confusing and the "mystery" about what happens to Matthew's brother Simon is thoroughly predictable and lacks suspense.
The Word for World is Forest
Ursula K. Le Guin
Rating: 4/5
I have absolutely loved Ursula Le Guin since I read her Earthsea Quartet as a child, so I thought I'd try her more "serious" sci-fi. Quite obviously a reflection on the Vietnam war, The Word for World is Forest follows the Terran conquering and logging of New Tahiti and their oppression of the passive native Athshesians. But what is the cost of change? What is the price of introducing murder into a culture that has none?
Digging In The Stars
Katherine Blakeney
Rating: 2.5/5
Review
Carter is a student at college studying Archaeology of Outer Space and Professor P's teaching assistant. Her friend Conrad went missing on the desert-like, low technological planet Thror, so instead of booking the class flights to Magnus Carter books for Thror. Whilst Digging In The Stars had a lot of potential, the narrative is confusing and Carter is flat as a pancake.
True Born
L. E. Sterling
Rating: 3/5
Review
Twin sisters Margot and Lucy live in Dominion City, overrun by The Plague which divides humanity into three groups: Lasters, Splicers, and the True Born. They're about to find out what they are. I liked Lucy and Margot a lot, and absolutely loved their security chief Nolan Storm, he of the antlers. It has an abusive love interest Jared that pulls True Born down.
Defy the Stars
Claudia Gray
Rating: 4/5
Review

Noemi Vidal is willing to die for Genesis, an Earth colony that has rejected technology beyond that which is "necessary" for survival. Abel is the most advanced mech ever made, abandoned on a spaceship for 30 years. Defy the Stars is a beautiful novel about love, sacrifice and duty which combines a lively plot with philosophical, scientific, and theological ideas.



The State of Grace
Rachael Lucas

Rating: 3.5/5
Review

Grace has Asperger's and The State of Grace is a wonderful book praised by a number of reviewers with autism. It's about romance, coming of age, family troubles, absent parents, and sisterhood, all packed into one little book. It's also got a horse. 
The Winner's Curse
Marie Rutkoski
Rating: 3/5
Review
Kestrel is a high class lady, given an ultimatum by her father: marry or enlist in the military. She buys Arin, a slave, at an auction, who is not all that he seems. Thankfully, this didn't really end up being a master/slave romance like I had feared – there is only two kisses in the entire book. There is, however, lots of parties, balls, and rebellion.