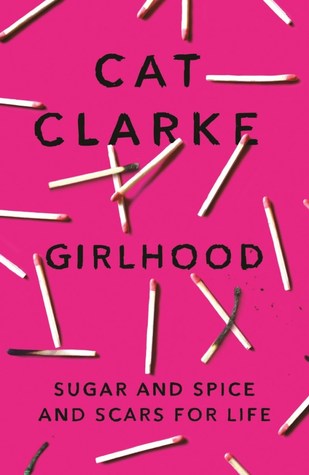 I do believe in forgiveness – for other people. If only it were as simple to forgive yourself. 
Harper has tried to forget the past and fit in at expensive boarding school Duncraggan Academy. Her new group of friends are tight; the kind of girls who Harper knows have her back. But Harper can't escape the guilt of her twin sister's Jenna's death, and her own part in it – and she knows noone else will ever really understand.




But new girl Kirsty seems to get Harper in ways she never expected. She has lost a sister too. Harper finally feels secure. She finally feels…loved. As if she can grow beyond the person she was when Jenna died. Then Kirsty's behaviour becomes more erratic. Why is her life a perfect mirror of Harper's? And why is she so obsessed with Harper's lost sister? Soon, Harper's closeness with Kirsty begins to threaten her other relationships, and her own sense of identity.
* * * * 
4 / 5 
Girlhood was a bit of a surprising read. It's less thriller than I thought it might be, but still had that compulsive quality where I found myself flicking pages as fast as possible to find out what was happening. In some ways, Girlhood is a very typical girl's boarding school tale about a group of female friends that starts to fall apart as secrets are revealed, in other ways it's a very good and frank examination of loss, grief, friendship, and family, and one that I highly recommend.
You don't need a best friend when you're a twin, because you have something better and closer and unbreakable. But it turns out there's no such thing as unbreakable. 
Harper moved to Duncraggan Academy, a boarding school in remote Scotland to escape her family, her past, and all the memories that come with her home. Duncraggan is full of rich kids and Harper's family aren't rich – just fortunate enough to win money, mere days after Harper loses her sister, Jenna, to anorexia. We meet Harper when she is in her final year, at about eighteen, three years after her loss. She still carries her sister with her, wearing her necklace but also having to make peace with her parent's who decided to make her sister's memory into a cautionary tale by talking to the media.
Years on, Harper has a tight friendship circle that includes her roommate Rowan, head girl Lily, and her roommate Ama. They're all looking forward to their last year, but all starts to go a little sour when Harper befriends new girl Kirsty after the group subject her to the routine boarding school initiation. At first, Kirsty and Harper bond over early mornings and swimming, but then Kirsty reveals that she too lost a sister. As Harper turns to her for emotional support, to talk about Jenna, Kirsty becomes slightly strange. 
I thought the character's were written quite well. I did keep confusing Lily and Ama, however, but each girl had their own plot or arc from Lily's illicit relationship to Ama's dreams of being a pianist. Harper was a curious girl; the atmosphere of the book really got to me, with the secrets and uncertainty, so whilst some of her actions were quite wild, it definitely felt understandable. Rowan was also a favourite of mine. Harper's parents also felt quite real to me – struggling with their loss of Jenna and then their only other child wanting to run away to remote Scotland. 
Clearly my parents have been hiding their hopes and dreams form me. Or perhaps it's that I've never asked. 
Jenna's necklace goes missing and Harper's classmates seem to know secrets about her that Lily, Rowan, and Ama have kept for months. This is where the slight thriller aspect comes in. Kirsty is certainly strange – she starts to imitate Jenna which weirds Harper out, but also drives Rowan away – and whilst the plot is reasonably predictable (I guessed the twist a little early on) I did find it very gripping. I would say that Girlhood is mostly about change, female friendships, and learning to manage grief. I think Clarke wrote very realistically and respectfully about anorexia.
Girlhood also discusses sexuality a little. Rowan is East Asian and a lesbian, whilst Harper is bisexual. Both are pretty confident in their sexuality and it only comes up a couple of times (at one point I did think it might be used as a plot point), but it's a nice nod to the sorts of issues that non-heterosexual girls might face in an all girl's boarding school. One the heterosexual side, Lily has a crush on the Academy's groundskeeper, a fact which ends up tearing the friendship group apart. 
Overall, Girlhood was a wonderful more adult YA book that I definitely recommend if you like boarding school settings or friendship drama. 
My thanks to Netgalley, the publisher, and the author for an ARC of Girlhood.