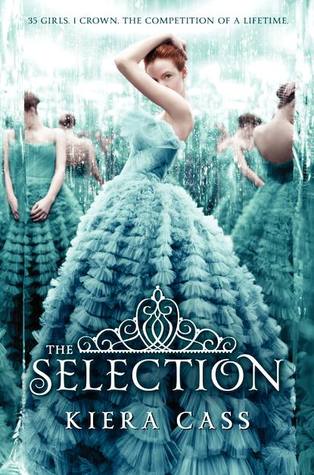 "No, I'm not choosing him or you. I'm choosing me."
For thirty-five girls, the Selection is the chance of a lifetime. The opportunity to escape the life laid out for them since birth. To be swept up in a world of glittering gowns and priceless jewels. To live in a palace and compete for the heart of gorgeous Prince Maxon.

But for America Singer, being Selected is a nightmare. It means turning her back on her secret love with Aspen, who is a caste below her. Leaving her home to enter a fierce competition for a crown she doesn't want. Living in a palace that is constantly threatened by violent rebel attacks.

Then America meets Prince Maxon. Gradually, she starts to question all the plans she's made for herself—and realizes that the life she's always dreamed of may not compare to a future she never imagined.
* .5
1.5 / 5
I didn't really expect to enjoy The Selection, but I was hoping it would be enjoyable in the same sort of way that Made in Chelsea is enjoyable – it's complete and utter trash, but it's fun trash. But most of the time The Selection isn't really that fun. It's key flaw, I think, is that it tries to be serious. If it had owned the fact that it's a weird Hunger Games parody, it might have been more enjoyable.
"I can't help it." I sighed. "One can never help being born into perfection"
America Singer – resident of the country used to be called America, who sings as her job. I think there were two possible routes that Cass could have taken to make America a fun character and thus The Selection more enjoyable. One, America could have been a genuinely nice, sweet, well-meaning girl. Or, my preferred option, she could have made America a straight up haughty woman, hell-bent on getting whatever the hell she wants. Instead, America Singer is some sort of weird girl caught between the two. She says she doesn't care about castes and treats all people equally, but goes around saying things like "Oh, I don't mind the company of Sixes" whilst referring to her maids, who she admits she can't tell apart because they're just that common-looking. There's three of them, for goodness sake. Maybe this is meant to make her flawed and relatable, but really it just makes a dick. And not a fun one. 
Other than, I suppose she's reasonably nice sometimes to a couple of her friends, like Marlee, and she has a couple of actually funny moments. But otherwise it's all 'I'm not like other girls I like jeans' or 'I'm not pretty, you're all entirely deluded'. Also, she keeps telling us she's poor when it's suggested she's the equivalent of lower middle class – she owns several nice dresses and sings for a living (which, don't get me started on her name, America Singer). Her family hires cleaners and maids occasionally, for heaven's sake. 
Then there's wet blanket Maxon. He's a terrible flirt and not in an endearing way, but in a vaguely creepy way. He's weirded out by upset women, doesn't seem to be able to tell most of them apart, and just isn't
princely
. Like, I get it Maxon, it's a bit weird for your family to invite 35 young women to live in your house for you to get to know, but that doesn't mean you need to start with
"You are all dear to me. It is simply a matter of discovering who shall be the dearest."
He doesn't really have a lot going for him in the charm department – although it seems a good chunk of the girls are just there for a shot at the crown, so fair enough. 
To give him a bit of credit, he did improve towards the end where he showed some sort of vague inkling that he might be a competent prince and was willing to enact change in his kingdom. 
"True love is usually the most inconvenient kind"
I can forgive The Selection for a few things. The world building, for example. There's some vague reference to China invading America over money and then a rebellion, which all sounds a bit implausible, but I don't think anyone picks up a book like this for the backstory. Then there's the
raging similarity to The Hunger Games.
Similar features:
A lottery based event 
Gale = Aspen, the boy from home who is the secondary romantic interest
Peeta =  Maxon, the boy she supposed to pretend to an audience that she loves
Lots of interviews and hair stylists and custom made clothes
Rebels against the Capitol/Illea
The list goes on. Obviously, the significant difference is that the women are love rivals rather than death rivals. It's bizarre really. This is the kind of book that you might actually enjoy as a tween – I'm sure I read books similar in idea at about ten – but the actual content, including references to sex, is clearly aimed at older teenagers. But America and Maxon are too brainless to be a hit with that age and the writing is too simple, particularly when the YA market has such excellent offerings at the moment.
Essentially, The Selection gets 1 and a half stars from me because it isn't offensive, is pretty short and easy to read, and has it's entertaining moments. It would have been much better if it had some self-awareness and was satirical.