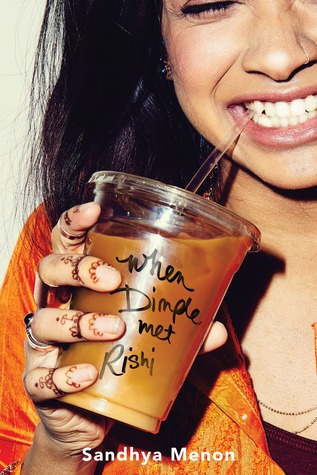 She nodded and smiled. "Works for me." And Rishi, gods help him, thought, I could look at that smile every day and never get tired of it 
Dimple Shah has it all figured out. With graduation behind her, she's more than ready for a break from her family, from Mamma's inexplicable obsession with her finding the "Ideal Indian Husband." Ugh. Dimple knows they must respect her principles on some level, though. If they truly believed she needed a husband right now, they wouldn't have paid for her to attend a summer program for aspiring web developers…right? 




Rishi Patel is a hopeless romantic. So when his parents tell him that his future wife will be attending the same summer program as him—wherein he'll have to woo her—he's totally on board. Because as silly as it sounds to most people in his life, Rishi wants to be arranged, believes in the power of tradition, stability, and being a part of something much bigger than himself. 
* * * 
3 / 5 
When Dimple Met Rishi is a romance, pure and simple. Dimple and Rishi are both going to a summer program for aspiring coders and app developers, but for different reasons. Dimple wants to code, to build towards her future career. Rishi wants to go and meet his future wife, Dimple; their parents have been arranging their courtship for years. This book is funny and sweet and excellently diverse, but it also has pacing issues and I found the romance stifling at points. 
Dimple and Rishi are excellently developed characters. Dimple is struggling with her mother, who is sending her to college in the hopes of meeting the "ideal Indian husband", whilst Dimple wants to show her mother she has worthy beyond her beauty and desires to work on her career. She's lively and passionate, but also struggles with bullies and her heritage. She's very much a modern young woman. Rishi is very traditional. He's a gentleman who is committed to helping his family and upholding traditions, but he's also an adorable dork who loves drawing comics. 
When he looked back up at Dimple, it hit her how much this really meant to him. This wasn't just an arranged marriage to Rishi; this was the rich fabric of history, stretched through time and space
The romance was, I thought, quite predictable. But it also developed really quite naturally and I was absolutely loving this book for the first half, but then the romance got a bit too unrealistically passionate (declaring love after having known each other for about three weeks, for example) and I lost my enthusiasm for it. What I did love was how diverse the people were, Rishi and Dimple are American Indian whilst Celia, Dimple's roommate is part Dominican, and how the book has great feminist undertones. 
One problem I had with this is that it is almost entirely romance. Whilst this is a romance book, I expected it to have a reasonable amount of time devoted to coding. There isn't. Dimple's idea for a web app is spoken about briefly, but I'm not sure that we ever see either of them write a single line of code. Whilst there are loads of delightful cultural details that really flesh out and substantiate Dimple and Rishi as American-Indian characters, there's not a lot that really cements them as coders. Either the author doesn't know anything at all about coding, or she just thought it was a bit irrelevant, which I thought was such a shame. 
It's also a summer school setting, but no one ever seems to have any workshops or lectures or tutoring. It's just Rishi and Dimple sitting around in each other's rooms chatting. All the details that would give this novel something beyond the romance are lost. On that note, when Rishi's brother showed up, I thought he would be a great opportunity to develop some kind of family bonds on page. Whilst some of this does happen and it's really great to read, Ashish ends up getting entangled in a romance of his own. 
My mom doesn't know why I want to do anything besides get married to the Ideal Indian Husband and settle down. She thinks college is basically just this big mating ritual
The writing, on the other hand, is fantastic. What I really loved is that Menon weaved details in and explicit references to Indian culture (clothing, food, language) that are easily understandable. Whilst talk between, say Dimple and her mother, is not translated, the context is used masterfully to make meaning obvious. This book is such a love letter to American-Indians, to those caught between traditions and expectations of family and modern America. It's also quite funny. I did find that the pacing was a bit off – whilst I was viciously flipping pages at the start, around the middle I found the plot really stagnated. 
The bottom line is: this book is almost entirely romance, so if that's what you read, then you'll love this book. Even those not all that interest in romance will find something to enjoy in this delightful book.
My thanks to Netgalley, the publisher, and the author for an ARC of this book.