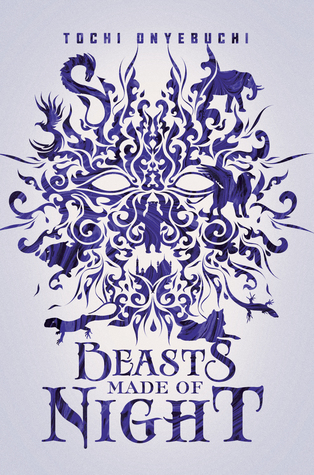 Sins weigh us down, and if you carry them with you past death, the earth and the sky both will reject you
In the walled city of Kos, corrupt mages can magically call forth sin from a sinner in the form of sin-beasts – lethal creatures spawned from feelings of guilt. 




Taj is the most talented of the aki, young sin-eaters indentured by the mages to slay the sin-beasts. But Taj's livelihood comes at a terrible cost. When Taj is called to eat a sin of a royal, he's suddenly thrust into the center of a dark conspiracy to destroy Kos. Now Taj must fight to save the princess that he loves – and his own life. 
* * 
2 / 5 
Beasts Made of Night has been on my radar for a couple of months because it sounded fantastic: sin taking form as beasts, a young man whose job is to devour the sins of others, a dark conspiracy, and the cover is gorgeous. I love a dark, intriguing, conspiracy-laden fantasy novel from time to time, but unfortunately Beasts Made of Night but the writing was lacklustre at best and nobody other than the main character had any, well, character.
"I think about what that apprentice Aliya said about sin-spots being poems, but here at night it's too dark to read whatever might be written on me"
The beginning is great. Taj is an aki, a sin-eater; people sin and this builds up inside of them, making them sicker and sicker until a priest performs a ritual on them, drawing forth the sin. This sin takes the form of a shadowy animal which must be fought, killed, and consumed by youngsters like Taj. Once consumed, the animal becomes a mark upon the sin-eater's skin, sort of like a tattoo. We open with Taj, a young and strong man with a difficult life, fighting such a beast; I thought the entire concept was really awesome and unlike anything I've read. Upon eating the sin of a royal family member, Taj is involved in a twisting and turning plot involving betrayal, a children's army, and a really weird-ass princess. I really didn't understand her and it's a pretty major case of instalove.
Beasts Made of Night reads like a first draft of a novel. The content is good, the plot has glittering potential, and I just loved all the background setting. But it really needed polishing up: the writing needed smoothing out, the scenes needed to flow, my attention needed to be captured rather than just drifting along, the slew of secondary characters need some excitement. There's three or four women in this book, a servant, a sin-eater, a childhood friend, a studying mage, and a princess, and they all sort of merged into one amorphous blob with little personality; Taj seems to be fascinated by each in turn. My favourite was, however, the apprentice mage, full of curiosity and scientific knowledge; I also loved Taj's childhood friend, who joins a group of renegades whose choice of rebellion is graffiti. I would have loved to know more about the scribes!
"Finally a tradition that has nothing to do with sins and aki and us bearing the guilt of others"
That's the biggest problem with this book, really: it's never quite enough. Not enough detail, not enough drama, not enough character exploration, not enough plot, and it's all strung together by rough writing. There's some great quotes and ideas, but mostly I just drifted through this book dispassionately, but really wanting to find something to love about it.  
My thanks to Netgalley, the publisher, and the author for an ARC of this book