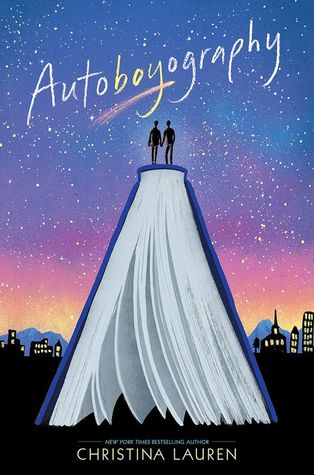 His smile ruins me
Three years ago, Tanner Scott's family relocated from California to Utah, a move that nudged the bisexual teen temporarily back into the closet. W

hen his best friend Autumn dares him to take Provo High's prestigious Seminar—where honor roll students diligently toil to draft a book in a semester—Tanner can't resist going against his better judgment and having a go, if only to prove to Autumn how silly the whole thing is. Writing a book in four months sounds simple. Four months is an eternity.




It turns out, Tanner is only partly right: four months is a long time. After all, it takes only one second for him to notice Sebastian Brother, the Mormon prodigy who sold his own Seminar novel the year before and who now mentors the class. And it takes less than a month for Tanner to fall completely in love with him.

 
* * * * 
4 / 5 
A sweet and heartbreaking gay romance novel with a cleve titular pun, Autoboyography delves into two things quite unfamiliar to me: rural America and the Church of the Latter-Day Saints, the most prominent branch of Mormonism. 
Tanner moved from a large city where he was an out and proud bisexual to a small Mormon town a few years ago, where his parents recommended that he keep his sexuality on the down low. Not even his best friend Autumn knows that he likes guys, but Tanner hasn't found it all that difficult to keep it under wraps since there isn't exactly an overabundance of attractive gay men in rural Utah. That is until Tanner takes the Seminar at the prompting of Autumn, a class in which students write an entire book over the course of the class, lead by last year's writing prodigy who went on to get his fantasy novel published. Sebastian Brother is attractive, kind, and firmly, absolutely, Mormon, a religion which tentatively accepts same-sex attraction as an actual thing, but will excommunicate any member that acts upon such attraction. Unfortunately, Tanner has never fallen for anyone harder.
You can be right or you can be loved. Only a handful get both at the same time
I adored Tanner. He's a bit brash and cocky but he's also kind and thoughtful and loves his friends, particularly Autumn. He makes some terrible choices, but is repentant, though he certainly made some decisions I definitely did not approve of. He's angry and sorrowful and desperately in love; he's happy to be Sebastian's secret and then he's not and he tries his best to understand Sebastian and Mormonism but he can never quite grasp it. Sebastian on the other hand, is not quite as well developed; he's quiet and withdrawn and tentative. He's willing to put his family in front of what he is and what he wants, but struggles when it becomes apparent what he is going to have to sacrifice. 
I must confess before reading this I had Mormonism confused with Jehovah's Witnesses, the latter of which is more popular in the UK than LDS. I believe both engage prominently in the door-knocking converting behaviour and the devotion of time to the community. Autoboyography delved quite deeply into the ideas and beliefs behind Mormonism and I believe it did so respectfully and fairly whilst highlighting how restrictive and unhealthy such a community can be for many people. 
Are you willing to be a secret?
So why didn't Autoboyography get that coveted five stars? I ummed and aahed about whether this is a four or five star book. Immediately after reading I gave it four, as I found the ending rather cliche and not that fantastic, then I upped it to five once I had had time to reflect on how fantastic the rest of the book was, but have now dropped it back down to five. I have read a reasonable number of books that tackle coming out and LGBT romances and the really amazing ones, they stick with you. I read The Miseducation of Cameron Post over two years ago and I still remember virtually everything that happened, that book was incredibly and really affected my life. 
Autoboyography doesn't have that long-term impact for me; it was thoughtful and sweet and the writing flowed and it dealt well with some difficult concepts and it was original in that I have never read a YA book about Mormonism let alone being LGBT and Mormon, but two weeks after reading the memory of it doesn't pack quite as much of a punch as some books do after five years.