Books, exams, books, studying, books
April Round Up, 2018
May is the month of my third year university exams and so, like any good student, what I decided that I really needed to do was to plough through a load of books. At the start of April I was 15 books behind schedule on my goal of reading 150 books in 2018, today I am only 8! Hurrah!I read a whopping 17 books this month and have finally started to carve my way back up to that elusive 80% feedback ratio on Netgalley.
More importantly, as you may have noticed, I have moved Atlas Rising Books from Blogger to WordPress. Mostly because of the aesthetics. I love the new look of my blog – I think it's super snazzy – but my god is it a lot of work. All the posts imported nicely, but I'm updating all the links within the posts manually instead of just redirecting them, and phew.
Spotlight ARC of the Month:
Krista & Becca Ritchie
* * * * 
4 / 5
"The three of us – we're an odd sort, aren't we?"
It's Franny Bluecastle's deathday. No one has ever survived theirs, she believes, until the day that she does. Upon waking she finds that her mind is intimately bound with two men – she senses their bodies and their emotions. Court Icecastle was imprisoned in the most famous and high security prison on the planet. At least until he escaped and dodged his deathday. He found himself linked to Mykal Kickfall. For years the two have been intimately close and planning to escape the planet via selection by a secret space mission run by StarDust.
I really, really loved the setting of this book. The deathdays concept was a little confusing but very well explained and integrated into the world of the book. I loved how Court and Mykal had a pre-existing relationship that was complex and their chemistry was real. I loved how Franny, wild and unstable Franny, was added into this little duo and their relationship was built around figuring out this weird emotional bond and balancing all their desires, rather than forcing any romantic tension.
The Raging Ones was a fantastic read. It was so creative – set in a frozen world with a lilac sky where each individual knows which day they will die on – and the characters were so compelling. Massive kudos for not including a love triangle between the two male characters and the female one; instead The Raging Ones cultivates a powerful friendship alongside a gay male romance.
Official Synopsis:

Franny Bluecastle, a tough city teen, dreams of dying in opulence, to see wealth she's never known. Court Icecastle knows wealth. He also knows pain. Mykal Kickfall fights for those he loves. The rugged Hinterlander shares a frustrating yet unbreakable connection with Court—which only grows more lawless and chaotic as their senses and emotions connect with Franny.

With the threat of people learning they've dodged their deathdays, they must flee their planet to survive.
Spotlight Read of the Month:
The Way of Kings (The Stormlight Archive #1)
Brandon Sanderson
* * * * * 
5 / 5
Life before death. Strength before weakness. Journey before destination.
This is the second time that I have read The Way of Kings. Well, actually I listened to it this time around and the narration was fantastic, but it was probably more incredible the second time. Brandon Sanderson is my go-to writer for epic fantasy because damn does he know how to write it. The Way of Kings has amazing focal characters, epic wars and lengthy full-size battles, a unique setting, entire peoples and their histories woven into the plot, and loads of sass.
The Way of Kings has many main characters, but the "main" main ones are Kaladin Stormblessed, a slave in the army of High Prince Sadeas, Shallan Devar, a young woman whose family is in danger and who becomes the ward of notable scholar and heretic Jasnah Kholin, and Dalinar Kholin, High Prince of Alethkar, father, and going slightly insane. These characters are all so different with their own plot arcs and I love them all.
The Stormlight Archive is epic fantasy as it is meant to be written. Give this a try, I implore you.
Official Synopsis:
It has been centuries since the fall of the ten consecrated orders known as the Knights Radiant, but their Shardblades and Shardplate remain: mystical swords and suits of armor that transform ordinary men into near-invincible warriors. Men trade kingdoms for Shardblades. Wars were fought for them, and won by them.

One such war rages on a ruined landscape called the Shattered Plains. There, Kaladin, who traded his medical apprenticeship for a spear to protect his little brother, has been reduced to slavery. In a war that makes no sense, where ten armies fight separately against a single foe, he struggles to save his men and to fathom the leaders who consider them expendable.
     * * *  Girls Made of Snow and Glass, Melissa Bashardoust
Review
An original take on Snow White and The Snow Queen with lovely, soft and unhurried writing. In the past, Mina is sixteen and her heart is made of glass. In the present, Lynet is a teenager and she is made of snow.
    * * * * Openly Straight, Bill Konigsberg
Review

Rafe has been out of the closet for a number of years and he feels like being gay has become his sole defining quality. When he transfers to an all-boys school, Rafe decides that he is going to keep his sexuality quiet. But then he meets Ben, questioning, uncertain, Ben. And it all falls apart.
     * Flamecaller, Caitlin Ricci
Review
Haruo seeks revenge for the execution of his father by the emperor and finds an opportunity in the tournament the emperor is holding in order to find a wife for his son. Unfortunately, Flamecaller feels really rushed and underdeveloped.
     * * * Lucy and Linh, Alice Pung
Review

This book is letters from Lucy to her friend Linh as we follow her journey from ordinary public school to an elite Australian private all-girls school Laurinda. I loved Lucy and her family, but thought the plot was quite repetitive.
     * * The Smoke Thieves, Sally Green
Review
The Smoke Thieves has five main characters, all of which had their own chapters. I liked two of them. I had high hopes for this book, but unfortunately I was disappointed due to a flat cast and slow pacing.
    * * * Breakthrough, Kris Bryant
A cute contemporary lesbian romance set in Anchorage, Alaska. Featuring magazine writer Kennedy who is given a story about fishing in Alaska, this is a sweet and engaging story, but the writing is somewhat awkward and repetitive in places
     * * *  Dodge Tank (Crystal Shards Online #1), Rick Scott
A LitRPG novel, Dodge Tank features Ryan who, like the rest of humanity, plays an online game. Unfortunately, his muscle disorder in his legs means he can't play a lucrative fighting class and so spends his days as a miner in order to get money to support his family.
    * * * Shard Warrior (Crystal Shards Online #2), Rick Scott
Ryan and his team must figure out how to save their city, Citadel, whilst managing to stay alive. A great and fun sequel to Dodge Tank, Shard Warrior ups the stakes and develops the worldbuilding for a more serious plot.
     * * The Spell Speakers, Day Leitao

This book was too short for how much it tried to pack in: boy lives in village that supposedly practices magic, boy loses his mum, boy meets his dad who he thought was dead and brother he didn't know existed, boy's entire life changes.
     * * * Failsafe, Anela Deen
Review

Try to picture this: humanity, inside a massive living computer on the surface of the Earth. I don't know about you, but I couldn't really imagine it, so my mental picture whilst reading Failsafe was mostly blank. But other than that I thought it was super cool and engaging and I even liked the romance!
     * * * * Skylarks, Karen Gregory
A contemporary f/f romance, Skylarks is a quintessentially British novel focused around issues of class and income. It was fantastic and only missed out on five stars because of the ending.
    * * * * A Short History of the Girl Next Door, Jared Reck
I wasn't sure that I was going to enjoy this one, but by the time I closed it I had tears in my eyes. Definitely not what I was expecting, this book is an honest and heartfelt portrayal of unrequited love (and loads of basketball).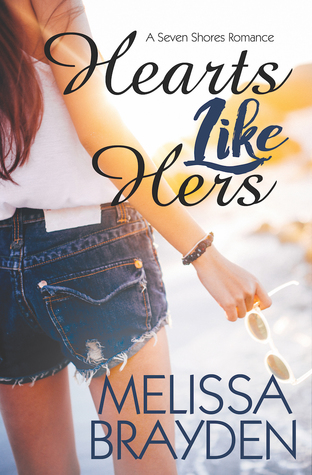 *  Detention Land, Susan Orion
My only real emotion upon finishing Detention Land was confusion. What on Earth had I just read? A few days later, I still have no idea.
     * * * Reality Gold, Tiffany Brooks
Reality Gold mixes ancient treasure hunting with a reality TV show, and it's a weird set-up but it kind of works? There's a varied cast and loads of twists – some of which really hit the mark – and the main character Riley was strong and likeable.
    * * * Hearts Like Hers, Melissa Brayden
The sequel to Eyes Like Those, Hearts Like Hers focuses on Autumn Primm. Autumn's ex has just got married, she's just turned 34 and she's still single. Then into her life comes Kate Carpenter, a firefighter who is running from a tragedy. The romance was sweet but like it's predecessor, it was too light and lacking in tension for me to be memorable.
What was your favourite book of April? Comment and tell me below!