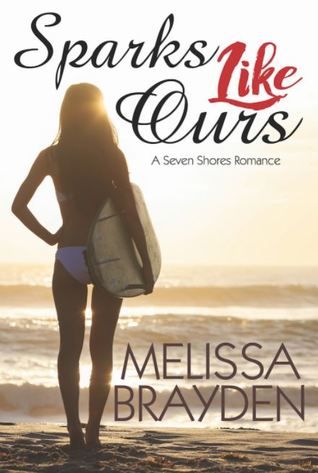 For Gia, this was a form of church. She honoured the waves with the respect they deserved

Gia Malone wants one thing and one thing only: to be the best surfer in the world. Her biggest obstacle is the annoyingly perky Elle Britton. Not only is Elle number one in the rankings, she's also a fan favorite.
Elle Britton is tired. After tournaments, fan meet-ups, and nonstop media requests, all she wants in the world is a little peace and quiet. But with Gia Malone closing in on her ranking, she has to surf her best. 
Read my reviews of the other books in this series: Eyes Like Those (#1), Hearts Like Hers (#2), and Love Like This (#4).
* * *
3 / 5
Definitely my favourite of the series so far! I loved all the surfing action, a sport I know virtually nothing about but that sounds really cool, and I'm a big lover of the enemies-to-lovers trope. Like it's content, this is definitely an easy beach read.
"Wait," Isabel said, holding up a hand. "Is that number two in the surf world walking toward us?"
Gia Malone is steadily climbing the rankings of the Women's World Surfing. She's young, she's vibrant, and she's got her eyes on the number one spot. The problem? The current number one is Elle Britton, a girl who knows how to charm the crowds; she knows the names of all the media people, she interacts with her fans, and she always has a ready smile on her face. No one can really be like that, right? Certainly not Gia, who thinks that Elle is faker than fake, and Elle thinks that Gia is rude and standoffish.
But then the two women end up working on an add campaign together and Elle offers Gia a lift home when her car breaks down. The two women begin to see a different side to each other, but their developing relationship has two big mountains in the way: one, they are prime surfing rivals, and two, Elle is straighter than straight. This is the first Seven Shores book with a romance that doesn't start with two women who know that they are either a lesbian or bisexual, but it was nicely written and wasn't dragged out.
Elle never knew such happiness was possible for her
I loved the romantic tension and the surfing scenes! The two had great chemistry and I loved the enemies to friends to lovers progression. But because they are so great together there isn't much tension in the book – you just know that the two will end up together! I also wish there had been a bit more on the surfing action – mostly the book focuses on what happens after a surfing tournament, on how Elle and Gia feel and how their performances affect their relationship.
This was definitely my favourites of the Seven Shores series; Gia is such a babe and she and Elle are great together. Only one single friend left now!
My thanks to Netgalley, the publisher, and the author for an ARC of this book