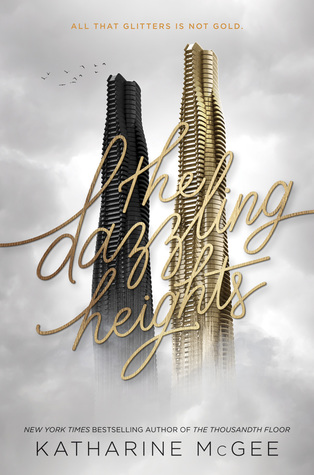 No one goes to a party expecting to die
Leda is haunted by memories of what happened on the worst night of her life. Watt just wants to put everything behind him…until Leda forces him to start hacking again. When Rylin wins a scholarship to an upper-floor school, her life transforms overnight. Avery is tormented by her love for the one person in the world she can never have. 
And then there's Calliope, the mysterious, bohemian beauty who arrives in New York determined to cause a stir. And she knows exactly where to begin.
* * *
3 / 5
The Dazzling Heights manages an impressive cast of different characters with a really complicated web of relationships and it's very cool and impressive. But it also feels like a rehash of the first book just with a less gasp-worthy ending.
"Did you fall in love with me because it was complicated and forbidden – because I was the only thing in the entire world that you were ever denied?"
We pick up with the remaining cast of The Thousandth Floor: the very dislikable Leda, the hacker Watt, the poor girl Rylin, and she of the horrendous "romance" Avery. Into this well-established mix we thrust Calliope, a mysterious and bohemian young woman with an agenda on her mind. Calliope and her mother are con-artists, constantly roaming and pulling all sorts of heists; the problem is that Calliope runs into Atlas (Avery's brother + lover) who she's run into before … under a different name, whilst pulling a con.
So what's this one about? I'll give you the run down. Avery has got her eye on Calliope who seems to be pursuing Atlas. Hint, she is. Rylin is trying to fit in her new upper-level school, but Leda seems to be out for her. Leda herself is struggling with the events of the last book and is busy blackmailing Watt, who is trying to keep the existence of his illegal computer secret. In the background is Eris girlfriend, who is out for revenge.
She'd worn so many names, played so many cons. She'd traded herself away in tiny little pieces with each lie, and now she had no idea what was left
I really liked Calliope. Not only was I absolutely rooting for her to steal Atlas off of Avery, I also just thought she was such a cool girl. A roamer, a con-artist, a girl with a past who is thinking that maybe she ought to change who she is. A girl struggling to find herself and exploring her relationship with her mother. Calliope was my favourite thing about the book.
What I liked less was how The Dazzling Heights just seemed like a bit of a repeat of The Thousandth Floor. We've got the repeat of the Atlas/Avery drama, we have the tension of sort of knowing how the book ends but not knowing who did what, and we've got all the gossip going on. But unlike The Thousandth Floor, the ending just wasn't as banging.
But I definitely enjoyed it, and if you liked The Thousandth Floor then you'll like the sequel too! Also who is doing this cover art?? It's absolutely gorgeous!
My thanks to Edelweiss for an ARC of this book