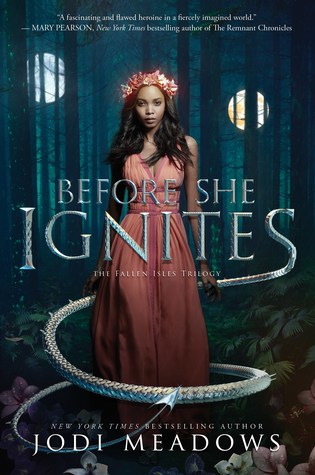 Once I'd been a girl, but now I was more. The sparks ignited
Mira Minkoba is the Hopebearer. Since the day she was born, she's been told she's special. Important. Perfect. But Mira has never felt as perfect as everyone says. She counts compulsively. She struggles with crippling anxiety. 
Then Mira discovers an explosive secret that challenges everything she and the Treaty stand for. 
*  *
2 / 5
I had a lot of hopes for Before She Ignites, mostly stemming from the gorgeous and inspiring cover and the mention of dragons on the back. Unfortunately, 75% of this book took place in a dark, dank prison and there was scarcely any draconic presence.
"Ready for dragons?" My soul lightened. "I am always ready for dragons."
I heard quite a lot about Before She Ignites that really intrigued me. Dragons. A POC character with anxiety and OCD. Creative mythology. But what we get is a touch of the dragon mystery and then Mira, a girl who stands for the signing of a peace treaty, is thrown into prison for a secret. There's a lot of potential here and I thought the start was fantastic, but then the story becomes excruciatingly slow. Mira spends pages upon pages being bummed out about being in prison, eating bad food, not getting on with her cell-mates.
I also found the whole worldbuilding incredible confusing. A treaty is named after Mira because she was born on the same day, on one of several islands named after gods. Why? Then there's special magical powers that don't make much sense, some political shenanigans that are confusing, and an annoying time flip from past to present that happens every few pages.
Strip away the things that had made me special at home and underneath I was just an awkward girl with panic attacks and a counting habit
This book was a depressing read. It takes place in a prison where the prisoners are seriously mistreated and the main character is slowly sliding downhill in terms of mental health – so the subject matter is dark – and the literal setting is dark. This book is gloomy. I found Before She Ignites to be slow-paced, boring, and thought that it seriously under-delivered on the whole "illegal dragon trafficking" premise. But I have read a lot of raving reviews for this book, so take my opinions with a pinch of salt!
I really wanted to like Before She Ignites, but it didn't really tick any of my boxes. I felt a bit misled by the synopsis and it took me a long old while to finish this one.
My thanks to Edelweiss for an ARC of this book.