Summer has finally come to England!
June Round Up, 2018

June was the proper start of my summer. I sat my last exam on June 1st and then had a couple of weeks off before starting my new summer job that has kept me very busy! Unfortunately this means that I didn't get the chance to read that many books – the best one was definitely finishing my audiobook copy of Words of Radiance (Brandon Sanderson) so that I can start the next book, Oathbringer.
Spotlight ARC of the Month:
* * *  
3 / 5
"Let the meanderings of other lives pass you by, kid"
Charmcaster is the third book in the Spellslinger series. I thought it was an improvement on Shadowblack, but not as good as Spellslinger. Like Shadowblack, Charmcaster has an episodic feel to it which was fun, and I loved the slow development of Kellen's character and the introduction of more Argosi.
Charmcaster has humour, moral complexity, and plot twists. It's definitely a stronger novel than Shadowblack, but I didn't find it quite as engaging as Spellslinger as there isn't much going on in terms of overarching plot. Reichis is definitely still a strong point!
Official Synopsis:

Kellen has begun to master his spellslinging and the Argosi tricks for staying alive, and he and Reichis have found a career that suits them both: taking down mercenary mages who make people's lives miserable. But Ferius is concerned that Kellen is courting disaster.
Spotlight Read of the Month: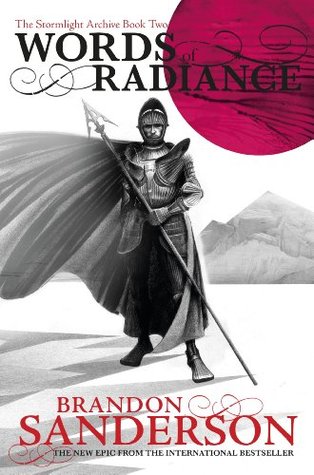 Words of Radiance (Stormlight Archive #2)
Brandon Sanderson
* * * * *  
5 / 5
Honour is dead. But I'll see what I can do. 
Words of Radiance is the continuation of The Way of Kings, picking up from that firecracker on an ending. A brief recap: Kaladin saved the armies of High Prince Dalinar, Dalinar discovered the truth about his visions, and Jasnah reveals a shocking secret to Shallan.
For those that aren't aware of the series, the Stormlight Archive is an amazing example of epic fantasy. It's up there with my absolute favourites, including the Lord of the Rings and The Wheel of Time. We follow the storylines of three people in a huge world that is changing and highly imaginative: a young scholar lady, a high prince of the realm, and a young slave. There's magic, there's swords, there's epic battles and high storms and incredible quotes.
This is not one to pass up on!
Official Synopsis:
Return to a planet swept by apocalyptic storms, a world tipping into war as aristocratic families move to control the shard blades and shard plates, ancient artifacts from a past civilisation that can win wars.

As the world tips into a war for control of the mythical artifacts of power made from Shard, characters are swept up into new dangers which will threaten their integrity and their lives.
Other Reads:
     * * *  Atlas Fallen, Jessica Pierce
Interesting book, some great characters, but felt like I'd read it before: the daughter of a traitor who is poor, the Prince with secrets and who doesn't much the duties of being prince, the conniving rich woman after the throne, the plot of revolution.


    * * * Midnight (Skulduggery Pleasant #9), Derek Landy
Any other book and this would be four stars, easy, but I feel like should rate Skulduggery Pleasant books in relation to each other, and this one ain't as good as Resurrection.
     * * * The Novice (Summoner #1), Taran Matharu

The Novice opens with a scene where a boy called Fletcher is hunting with a bow in order to get food so he doesn't go hungry. I rolled my eyes and thought "here we go". But it's fun and it grew on me.
     * * Sweethearts, Gemma Gilmore

Unfortunately this novel about discovering your sexuality and dealing with teen pregnancy didn't quite hit the mark for me. The main character is a massive bully.
     * * * Under the Eagle (Eagle #1), Simon Scarrow
A fun little historical romp through the year of 42AD and the Empire of Rome. If you like light historical fiction and you like the Roman Empire, give this one a shot when you have a long train journey.

    * * * The Lost Path, Amelie Flechais
A gorgeous, beautiful graphic novel that unfortunately made precious little sense. Three young boys get lost inside a magical forest and meet a variety of weird creatures.
     * * * * The Forging of the Sword (The Darkweaver Legacy #1), Mark Robson
A childhood favourite of mine, The Forging of the Sword follows the classic tale of a boy, suddenly orphaned at the hands of a traitor. His village burning, Calvyn is taken in by an old magician who teaches him a few tricks.
    * * * Trail of the Huntress (The Darkweaver Legacy #2), Mark Robson
Whilst not quite as good as the first book, Trail of the Huntress is an enjoyable and inventive (if often ridiculous) sequel. This book focuses mostly on Jenna and her role as The Huntress.
     * * * First Sword (The Darkweaver Legacy #3), Mark Robson

My favourite of the quartet, First Sword picks up from where The Trail of the Huntress left off, with Calvyn's soul suddenly returned to him. Unfortunately, his friends Bek and Jez have been delivered to the arena to fight at the pleasure of the Emperor
     * * * The Eagle's Conquest (Eagle #2), Simon Scarrow

I thought this was much better than it's predecessor, Under the Eagle. The Eagle's Conquest focuses on the invasion of Britain by the Romans and the greater scope of the book compared to the first one makes it a lot more exciting.
     * * * Ravine, Stjepan Sejic
An epic fantasy comic. Not really my kind of art style and very confusing at first, but it did draw me in. The text was a bit small.
What was your favourite book of June? Comment and tell me below!